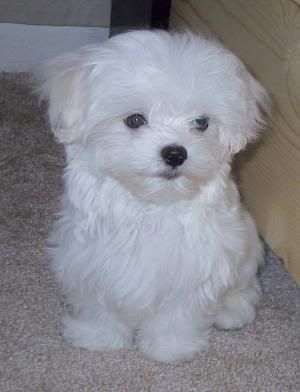 Bathing Your Maltese

Before beginning, brush and comb your Maltese thoroughly to eliminate dead hair, knots and mats (as describred above). Have everything necessary towels, shampoo, conditioner etc. ready before you put your puppy in the tub. Clean your puppy's ears if necessary and place a small ball of cotton in the ears to soak up any water accidentally entering the ear canal (a common cause of infection). Place a rubber mat or towel on the bottom of the sink or bathtub. A hand-held rubber spray attached to your faucet can make things much easier.
Make sure your Maltese is completely wet to the skin before applying shampoo. A good quality shampoo and conditioner. After bathing, the natural oils will quickly return to the skin and coat. Apply dabs of shampoo to the back, each leg and under the tail of your puppy. Work up a ood lather down to the skin, proceeding from back to front. Take special care to clean the anal area and paw pads. Rinse the coat thoroughly and shampoo again. Rinse again. Wash your puppy's face with a washcloth. If using a non-tearless shampoo, take great care to avoid the eyes. Tip the head up to rinse. RINSE every part of your puppy's body until all traces of soap are gone and the water runs perfectly clear. This step is very important because any remaining residue will irritate your Maltese skin and make the coat dull.